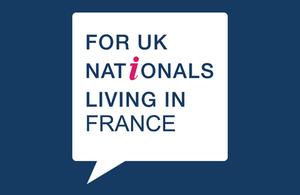 The latest news from the British Embassy for UK nationals living in France.
For your information, please find below the latest update from the British Embassy on UK citizens' rights in France:
Indications are that the French Ministry of Interior is still working towards a July launch for the new residency application website.
Please see here for information on expiring titres de séjour (from 16 March) remaining valid during the COVID-19 period.
With regard to continuity of allocation aux adultes handicapés (AAH), revenu de solidarité active (RSA) and other benefits for those where their right to claim a benefit is due to end or be reviewed during COVID-19, please see this link for which benefits will be automatically prolonged and for how long.
The Embassy has received questions on whether businesses that accept government financial support will be negatively impacted for their Withdrawal Agreement residency application. The Embassy is raising this with the French Ministry of the Interior.
The Embassy is working on The UK Nationals Support Fund for EU based UK Nationals to see how the project can be delivered during COVID-19 period.
The main headlines for COVID-19 are on the Embassy's Travel Advice for France first and foremost, reinforcing French government advice – there is a link to this on the Embassy's Living in France Guide too. The Embassy has also done a number of pieces on social media, and in the Connexion. French authorities' coronavirus information in English can be found here.