20170707-img_8456.jpg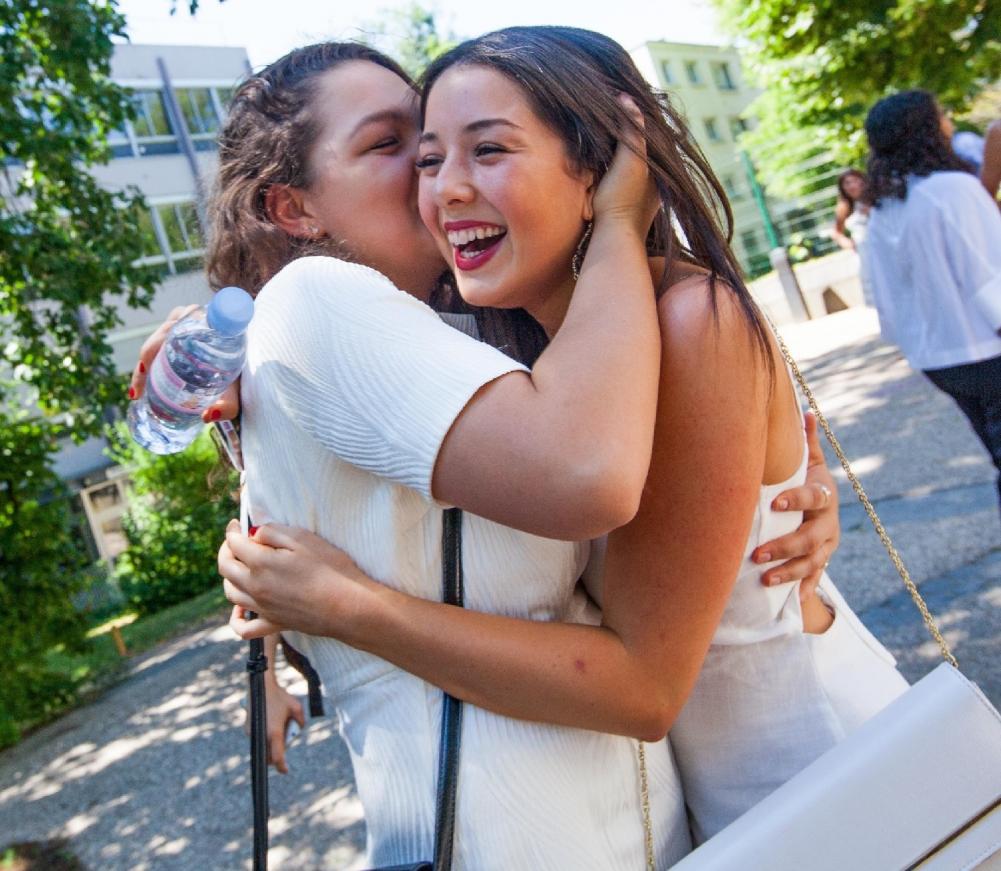 All of our pupils go on to higher education with most students gaining places at highly selective courses across a wide range of subjects in both the UK and France. A smaller number choose options in other countries, such as the Netherlands, USA, Ireland, or Canada. See below for examples of our leavers' higher education destinations.
The British Section organises annual meetings for pupils and parents in Première (Year 12) and Terminale (Year 13) to explain the different options available and provides individual advice and support through our dedicated team of University Application Supervisors. We also use the Unifrog platform to give students valuable insights into the work and careers best suited to their skills and interests. The Lycée International also organises an annual careers fair run by parents and alumni, the Carrefour des Etudes et Métiers, and we regularly receive visits from universities wishing to recruit our students. Recent visitors include the Senior Tutors of King's College Cambridge and Selwyn College Cambridge and the London universities roadshow.
The British Section plays an active role in ensuring British universities, as well as those offering anglophone courses elsewhere, understand and appreciate our students' international profile and the BFI (Baccalauréat Français International).
Our growing Alumni network allows us to track the international pathways taken by British Section students and to inspire and support our current students.
Parents, please click on the links for more information on our University Entrance programme in Première and Terminale.
| | | |
| --- | --- | --- |
| University | Course | Country |
| UK destinations |   |   |
| Durham University | Combined Honours in Social Sciences / General Engineering / Liberal Arts | UK |
| Imperial College London | Biomedical Engineering / Computing / Aeronautical Engineering / Physics | UK |
| King's College London | European Politics / Biochemistry / Medicine / Psychology /  | UK |
| Leeds College of Art | Art Foundation | UK |
| London School of Economics | Management / PPE / Politics and Philosophy / International Relations / Anthropology and Law | UK |
| Loughborough University  | Aeronautical Engineering | UK |
| Oxford Brookes University | Medical Science / History of Art | UK |
| Queen Mary University of London | Design, Innovation and Creative Engineering / French and English Law (Dual Degree) | UK |
| University College London | Neuroscience / European Social and Political Studies (Dual Degree) / Biochemistry / Natural Sciences | UK |
| University of Bath | Chemistry for Drug Discovery / International Management / Psychology / Civil Engineering / Sport and Social Sciences / Economics | UK |
| University of Birmingham | Physics | UK |
| University of Bristol | Electrical and Electronic Engineering with Innovation / Economics / Sociology | UK |
| University of Cambridge | Law / Human, Social, and Political Sciences / Mathematics / Spanish and Italian ab initio / History and Politics | UK |
| University of Essex | English and French Law  | UK |
| University of Exeter  | Biological Sciences / Computer Science / Business and Management / History and International Relations | UK |
| University of Leeds | Communication and Media |   |
| University of Manchester | Sociology / Aerospace Engineering / International Management / Anthropology | UK |
| University of Oxford | Chemistry / French and Russian ab initio / Mathematics /  | UK |
| University of Sheffield | Sociology and Business Management | UK |
| University of Warwick | International Management / Law with French Law / Electronic Engineering / Mathematics / Economics / MORSE / Global Sustainable Development / Politics and International Studies | UK |
|   |   |   |
| Other destinations |   |   |
| Delft University of Technology | Aerospace engineering | Netherlands |
| École de design Nantes Atlantique | Design | France |
| Ecole Polytechnique Fédérale de Lausanne | Engineering / Chemical Engineering | France |
| ESSEC Business School | Business and management | Singapore |
| McGill | Human Sciences / Commerce | Canada |
| Prépa - Ginette | MPSI / BCPST | France |
| Prépa - Henri IV | PCSI | France |
| Prépa - Louis Le Grand | MPSI / Khâgne-Hypokhâgne | France |
| Prépa - Notre-Dame du Grandchamps, Versailles | ECS | France |
| Sciences Po | International Relations | France |
| University of Amsterdam | Politics, Psychology, Law and Economics | Netherlands |
| University of Western Australia | Bachelor of Arts | Australia |
| University of Pennsylvania | Mathematics | USA |
| Williams College | Liberal Arts | USA |