Posted on 2 November 2020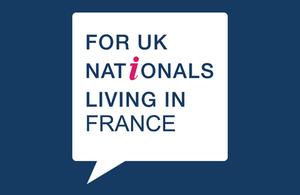 The latest news from the British Embassy on applying for residency for UK nationals living in France.
For your information, please find below the latest update from the British Government on UK citizens' rights in France:
If you are resident in France before 31 December 2020, you will be able to stay. You must apply online for the new residency permit before 1 July 2021, in line with the Withdrawal Agreement. You need to have your new residency permit before 1 October 2021. All UK nationals resident in France need to apply for the new residency permit. This includes UK nationals:
with a European carte de séjour (even if it is marked "permanent", or has no expiry date)
without a European carte de séjour (it is currently optional to have one)
applying for a second nationality
married to or in a civil partnership with (known as PACSed) EU nationals
recently arriving or well established in France
Each person must make a separate application. Children under 18 do not need to apply, unless they need a residency permit to work or will turn 18 close to the application deadline.
If you have been living in France for over 5 years, you will be eligible for permanent residency and a 10-year renewable residency permit.
If you have been living in France for fewer than 5 years, you will be eligible for a card with 5 years' validity. You will need to provide evidence of your personal situation (as a worker, self-sufficient person, student, job seeker, British family member, British spouse of a French national). Read the flowchart on the application website shows what documents you need to provide.
If you applied for residency via the previous 'no-deal' website, you do not need to re-apply. Your application will be processed by the appropriate Préfecture before the deadline. However if you have moved to a different Departement since applying, you must apply again.
For more information, see the British Embassy's Facebook FAQ (Frequently Asked Questions) on residency page: https://www.facebook.com/notes/british-embassy-paris/top-ten-faqs-on-residency/3681292705262431/, the French government's guidance for UK nationals (in English), and the French Interior Ministry's website on how to secure your residency rights (in French).