Posted on 7 February 2020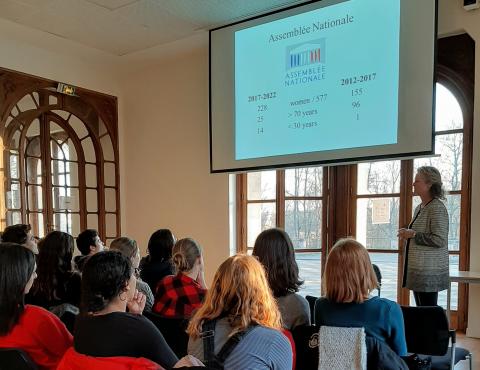 The Economist's Paris Bureau Chief runs a master class for British Section students on contemporary politics.
Sophie Pedder, Paris Bureau Chief for The Economist, gave a Master Class in contemporary French politics to a packed conference room in the Château d'Hennemont this week, followed by a lively Q&A session with questions on the impact of Gilet Jaune protests, fake news and Brexit. Ms Pedder is responsible for the paper's political and economic coverage of France and the author of "Revolution Française: Emmanuel Macron and the Quest to Reinvent a Nation" (Bloomsbury, 2018). The Master Class programme is designed to give our lycée students a taste of what it might be like to study at university. Outside speakers present their ideas on a topic, theme or event and lead a discussion with the students. These sessions provide an opportunity to extend the students' understanding of an area that they are interested in, to ask questions from experts, and to explore possible future careers.