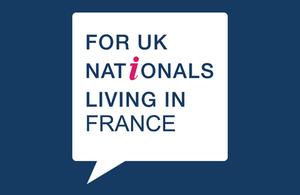 The latest news from the British Embassy for UK nationals living in France.
The French government has released new information about their "border reopening strategy" to come into effect from Wednesday 9 June. The full set of measures are available here (en français) and below (in English). France will sort countries into red/amber/green lists, with different measures for each group. Under this system, from Wednesday 9 June the UK will be classed as an amber country.
Travelling from the UK to France
If you have not been fully vaccinated the measures currently in place will continue to apply:
UK nationals who are not EU nationals or French residents must provide an essential reason for travel.
Travellers must present a negative PCR (taken within 72 hours of departure) or a negative antigen test (taken within 48 hours of departure; this should not be self-administered)
Arrivals must self-isolate for seven days at their accommodation. 
If you have been fully vaccinated, you will not have to provide an essential reason for travel to enter France, nor will you have to self-isolate on arrival. You will be considered fully vaccinated by French border control:
2 weeks after a second dose of Pfizer, Moderna or AstraZeneca.
4 weeks after the single dose of Johnson & Johnson.
2 weeks after a single dose of any of the above vaccines if you have previously tested positive for COVID-19.
France will extend the exemptions from quarantine and the need for an essential reason for travel to minors accompanying fully vaccinated adults from the UK
Travelling from France to England
There are French government restrictions in place for leaving France. If you are a UK national or resident, you will be able to leave France but should still complete the relevant international travel certificate. If you are a French national, you will need to provide either an essential reason for travel or be able to prove you have been fully vaccinated. Please note that the UK does not treat arrivals differently based on their vaccination status. France remains on the UK's amber list and the FCDO continues to advise against all but essential travel to France. Entry requirements to England remain unchanged, but different measures are in place in Scotland, Wales and Northern Ireland.
In order to travel from France to England, you must:
On arrival in England you must:
Quarantine at home or in the place you are staying for 10 days.
Take a COVID-19 test on or before day 2 and on or after day 8.
You may also be eligible for Test and Release after day 5 of self-isolation.
For more information, see the British Government's France travel advice and the French government's Coronavirus advice for foreign nationals page (in English).